Castle Semple Sailing Club has an active group of younger sailors, or cadets, from aged eight upwards.  Sessions are held on Sunday mornings from spring till autumn before the water gets too chilly. While the club doesn't offer formal tuition, there will be safety boat cover and experienced adult sailors on hand to offer advice and help with rigging the boats to get you going on the water. Sailors must be able to swim and a parent or other responsible adult should remain onshore. We aim to turn up at 9.15 to start getting the boats rigged and stay on the water until about midday.
We have a number of club boats that can be used (Optimists, Toppers, a Pico and two Fevas). If your child wants to try sailing, drop us an email and we'll sort out a taster session, or just come along on a Sunday morning for  a chat.  For the first few Sunday sessions, a small donation to club funds will suffice. After that annual cadet membership costs £60 + £30 for use of club boats. If you join late in the season, next year's membership is included.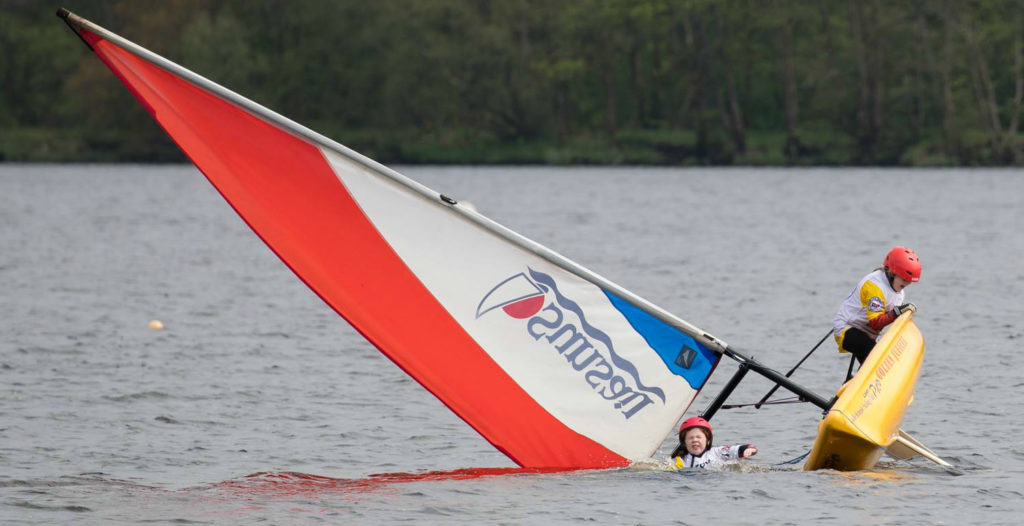 What kit do I need? 
The one piece of essential equipment is a buoyancy vest. The club has some that can be borrowed (though not many small sizes). They're relatively inexpensive (Decathlon, Lomo, Wetsuit Outlet). Gloves (usually fingerless for summer) will spare you sore hands. Some parents invest in a helmet. Beyond that you can get by with light layers of clothing, lightweight trousers (not jeans) or shorts, a windproof jacket (eg cagoule) and light non-slip footwear (eg old trainers – not wellies or flip flops). If you decide you like it, you'll want to invest in a wetsuit and sailing/wetsuit boots. Bring a change of clothes and a towel – you will get wet! We have changing facilities in the club house.
If you want to find out more, here's the email address.  info@castlesemplesc.co.uk.
We had a lot of fun practicing on the Trapeze wires of the Dart 16 before the racing started The […]
Read More
Some of the Cadets were crewing with the adults in the Ian Brown Cup on Sunday 16th September We had […]
Read More